As a business, you probably have included multimedia content on your website. What if there was a way to boost that content, making it accessible to a wider audience. Did you know that 75% of the world's population doesn't speak English as a first or second language? Well, introducing subtitle translation into your content can support your business expanding into new markets. Subtitle translation can have multiple benefits for your companies, 5 of which will be explored in this blog.  
Let's look at what subtitle translation is and the advantages it has… 
What is subtitle translation? 
To understand subtitle translation, we first need to understand subtitles, which work by turning multimedia dialogue into text. Subtitle translation is a similar process; however, the text will appear in another language to the one spoken in the original dialogue. More multimedia companies are using translation subtitles to expand their content into new markets, for example, YouTube and Netflix both have translation subtitles available in over 20 languages.  
How does subtitle translation work? 
One of the most asked questions surrounding subtitle translation is how does it work? Well, it works by combining the skills of a professional transcriptionist and subtitles to first turn the original dialogue into subtitles. The text from the subtitles is then translated into any language by a professional translator and formatted into new, international, subtitles. This ensures the final product is accurate and easy to read in the desired language.  
Now we understand what subtitle translation is and how it works, let's look at the benefits… 
 1. Expand your audience on an international level 
One way to improve your customer reach is to include translated subtitles in your multimedia content. This can make your videos more inclusive to those who don't understand the language spoken in the original dialogue. Therefore, introducing translation through the medium of subtitles is a great way to gain a presence in new markets. By using subtitle translation, businesses in any industry can grow their content on a large scale.  
For example, major multimedia companies like YouTube have seen positive growth in the number of people using subtitling. YouTube has found that subtitle translation has increased the discoverability of content. As well as this, YouTube has also introduced translation for titles and descriptions. This is further expanding the audience on an international level as people can read about the topic before deciding to watch the content.  
2. Improves e-learning 
Another benefit of subtitle translation is its ability to improve inclusivity. Creating multimedia content that can be accessed and understood by anyone via the use of subtitles. But how can you, as a business, benefit from this? Making your video content inclusive is not always about adding subtitles for understanding. Subtitle translation can be used to enhance e-learning.   
Subtitle translation can be used in E-learning materials to inform your colleagues, globally. E-learning offers flexible learning without the need of attending a class or being in a physical location. Most e-learning platforms include subtitles in their multimedia contents original language but introducing subtitle translation to the learning material is crucial for international businesses that want to see effective learning outcomes and improve learner engagement.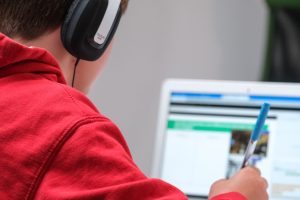 3. Rank higher and better by boosting SEO 
All organisations will be aware of the part search engines, especially Google, have in driving traffic to your website. However, in 2022, Google made some changes to the way websites are being crawled. For example, the search engine now has the ability to read and measure the quality of multimedia content. As well as checking for accessibility of the content. Therefore, introducing subtitles is at the core of achieving both these and will improve your ranking. However, if you want to ensure that you rank higher and boost your SEO then you should consider adding subtitles. 
You would also introduce subtitle translation to help Google understand your content is built for international audiences. This technique can be used by any industry, and making these small changes can have a huge impact on your web performance.  
 4. Become competitive in your field 
By investing in subtitle translation, you can stand out from your competitors. Multilingual subtitle translation gives prospects the option of choosing from a variety of languages when consuming your product videos, how-to guides, or latest podcast filming. By collecting and analysing data on the performance of your content, it will be easy to see which languages are being most used. This will allow you to continue investing in languages you know there is a strong market for. Putting you in front of your best competitor.  
5. Engage with your viewers 
Introducing subtitles into your multimedia content can increase your engagement with viewers by 12%. However, adding subtitle translation can further improve the viewing figures by growing the inclusivity of your video content.  
Large organisations like Netflix have relied on subtitle translations to enhance their streaming service. Netflix has been able to improve viewing figures for, as an example, Korean movies and television shows in the UK using subtitle translations. In the UK, hit Korean series Squid Game was in the top 10 of most-watched shows in 2021.     
  To ensure that your organisation doesn't get lost in translation, use a multimedia agency to check all messages, promotions, marketing, and so much more are understood by all. So, do you want to receive all these benefits and more from subtitle translation? Why not get in touch with the multimedia experts at VoiceBox today to find out more.   
 Information corrects: 01/07/2022 
 Useful links 
75% of the world doesn't speak English 
YouTube increasing audience reach.  
Squid Games is in the top 10 television shows in the UK.