Morgan Freeman, David Attenborough, and Tom Hanks – what do you remember them for? Their voices. Through film, TV, advertising and more, the most recognisable trait in our favourite multimedia is the
voiceover
. But can other industries harness a memorable character voice to boost their offering or increase their viewer engagement? Here at VoiceBox, we certainly think so!
In this blog, we explore e-learning materials, museum tour guides, and other services that could be powered up by multilingual voiceovers.
What are
voiceover services?
When thinking about nature documentaries, who's voice do you think of? Exactly. That's the power of voiceover services. Finding the perfect voice to audibly enhance a visual, whether it be a film, animated television show, museum-guided tour or else, can improve the content your business is producing. To make the information as interesting as possible for the listener, expert voiceover artists will bring the text to life, with different inflexions, tonality, and approaches to the script. This brings excitement to visuals that sometimes need some extra oomph.  
The process of choosing the best voiceover for your content, consists of the following: 
Knowing what languages you want the

voiceover

to be in is a big part of finding the perfect voice for your brand. Having the ability to choose from a catalogue of languages will also help in making your final decision. Here at

VoiceBox

 we offer voiceover services in more than 220 languages.

 

Choose your

voiceover

artist from the thousands of expert vocalists available. By hearing an array of voices reading an extract from your script, you can make an informed decision and pick the best voice for the piece – as well as, your wider brand tone of voice.

 

All

voiceover

s will be recorded in a professional studio to ensure the audio file is simply perfect! You can even attend the recording to give feedback live!

 
Now we've established what they are, how can voiceover services be applied to industries you might not always think of… 
Can
voiceovers
be used in E-learning? 
The short answer is, yes! Voiceovers can add impact and storytelling to your e-learning content. Many learners may have a business or personal aim with the ultimate objective of improving their skills. E-learning voiceovers make the learning materials easier to understand. For instance, when learning new languages, memory functions are crucial. Voiceovers are the perfect choice as they will offer learners not only an understanding of the phonetics of the words and phrases but also how they should be pronounced.   
How can the manufacturing industry use
voiceovers?
Would you have guessed that one of the industries to use voiceover services is manufacturing? Surprisingly, this industry uses voiceovers in many ways. 
Customers, internationally, rely on multilingual voiceovers to understand how tools and machinery should be used safely through how-to guides. There is one core way in which manufacturing companies can benefit from voiceovers which includes the ability to decrease the number of accidents that could happen, they build trust between the consumer and the manufacturer, and helps suppliers meet legal requirements.  
Plus, employees will need to watch and understand multimedia content for in-house safety training videos. This promotes a safe working environment in which accidents can be avoided. Introducing multilingual voiceovers to this content will increase its accessibility.   
Both these video types rely on voiceovers to add narration and explain the content of the video.  
Why do Museums use
voiceover services?
As you know, museums are at the core of exploring historic cultures, arts, science and more. So why do people visit museums? Well, many international tourists visit to better understand the country they are visiting. Due to this, voiceovers in museums, especially when made multilingual, are the perfect combination, which is why Museum guides rely heavily on multilingual voiceover services. Being honest, museums can be a bit boring for some folk, but with a good voiceover, you can totally turn this around.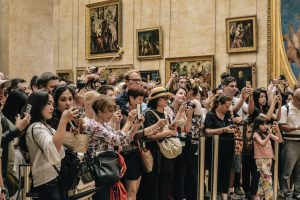 Are you ready to see how voiceover services can benefit your multimedia? Then contact VoiceBox a multimedia agency specialising in voiceovers. 
VoiceBox has been successfully helping brands to find their voice for 17+ years and is an expert in sourcing and recording exactly what you need. With over 2,000 professional voiceover artists available in 220+ languages why not find your voice with VoiceBox. Contact us today to find out more.  
 Information correct: 14/07/2022 
Useful links 
Benefits of voiceovers in e-learning