Live Captioning For Meetings
Supercharge your company's communication with VoiceBox's live captioning for meetings.
The recent shift to a digital-first way of working has transformed the way we hold meetings for good.
With most company meetings now taking place over video conferencing platforms like Zoom and Skype for Business, companies must now consider how to guarantee accessibility for all meeting participants. Communications also need to remain efficient and streamlined. For this reason, VoiceBox has developed DrCaptions. Our state-of-the-art DrCaptions tool provides AI-powered captions that covert audio and dialogue into text that appears on your stream or screen in real time. All at an affordable rate.
Want to see if DrCaptions is right for you?
98% customer satisfaction rate
220+ languages
2000+ voice over artists
Quick and easy process
Rapid turnaround
Budget-friendly options
Why use live captioning
for meetings?
From inclusivity to new insights, here are our three top reasons to use our DrCaptions tool:
Boost meeting participation

: Implementing our DrCaptions tool is a quick and easy way to make your company meetings more accessible – first of all for those participants who are deaf or hard or hearing, ensuring they can be included. It's also useful for those participants who are neurodiverse and could benefit from captions for comprehensibility and to reinforce what's being said. Lastly, consider those participants dialing in from noisy environments, such as parents working from home with small children, or those that are non-native English speakers – DrCaptions will ensure that no one misses a word.

Budget-friendly

: Where 100% accuracy isn't business-critical, our Zoom live captioning or Skype for business subtitles services are a budget-friendly alternative to paying for live captioning from trained stenographers – which is a separate service we offer. DrCaptions can cut costs and save precious resources for our clients. It can also become more affordable should you wish to deploy our tool across a series of meetings.

Get meeting insights instantly

: Being able to instantly receive a Skype or Zoom transcript of your meeting will allow you to save and share your meeting insights with those not present or unable to join. With a Skype or Zoom transcript of what has been said, the options are limitless – you can go back and gain insight from past meetings, analyse sales calls, carefully evaluate candidates from job interviews, create notes from brainstorming sessions and more.
You're in safe hands with
VoiceBox
VoiceBox is an award-winning agency with years of experience in captioning and subtitles. Our core philosophy is to treat our clients like partners, meaning we will adapt our service offering to accommodate your company requirements. We take pride in our flexible, client-first approach – even if you need us for a meeting at the very last moment!
About
DrCaptions
Using cutting-edge, AI-led technology, VoiceBox's mission is to boost digital inclusion for all. Our AI-powered captions are most popular with meetings via video conferencing platforms like Zoom, Microsoft Teams, Skype for Business, Google Meet and more. Theycan also be useful for in-person meetings where there is a display screen available for use.
After the meeting, a full transcript of the generated captions is available to save and share, ensuring participants can review the meeting's content at their own pace or send to non-attendees. What's more, DrCaptions provides a bespoke offering for each and every client. Users are able to adjust the text size and colours to aid those with visual impairments.
Which type of meetings
do we cover?
No matter your company, sector or niche, our AI-powered captioning tool can be used across every type of meeting or conference, including:
Academic seminars or meetings
Lectures or conferences
Interviews
Sales calls
Corporate and HR meetings
Client meetings, including those dealing with confidential material
What do our
clients say?
Thanks for (as always) providing quality subtitles and exceptional customer service. Your team made a real difference to yesterday's event

Ophelia Edwards, Events manager at Aviva on our human-led Live Captioning service

A one-stop shop for your
multimedia needs
Centralise your multimedia projects and accessibility needs with VoiceBox. With our wide range of services, including Audio Description, voice over, other subtitles services, multimedia translation, transcription and more, allow us to take care of all of your multimedia needs.
Our talented team understands how to make content inclusive. We continue to stay on top of the latest news and developments in the accessibility sector.
You will be given one point of contact at VoiceBox to oversee your entire multimedia workflow, liaising with everyone from translators to voice over artists. This means you can sit back and relax in the knowledge that one of our experienced team members is overseeing every step of the process.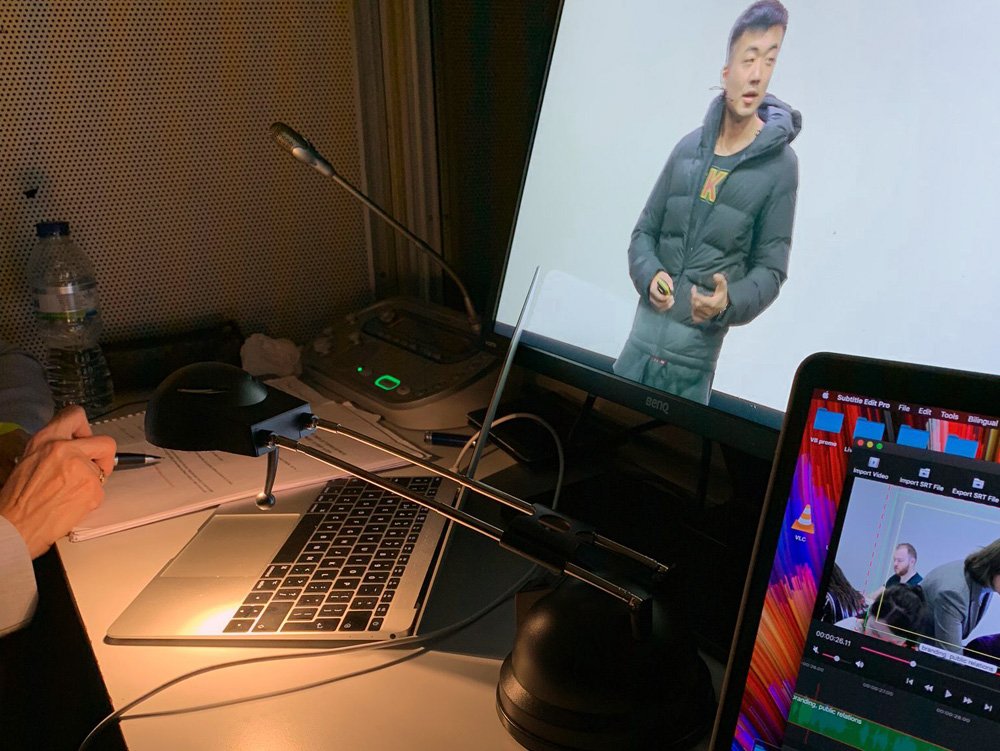 Why choose

VoiceBox
?
At VoiceBox, we want to work with you at every step of the way to provide you with an outstanding service for your meetings. Here are the three reasons why our services stand out:
Versatile

: Due to our expert team and state-of-the-art software, we can deliver live captioning for meetings that match the needs of your project.

Collaborative

: We work side-by-side with our clients to ensure customer satisfaction, every time.

Flexible

: Whether there is a change in brief, budget or timescale, we pride ourselves on our flexibility as an organisation to ensure your meeting is catered for to a high standard.