In the UK, over 80% of the population use some form of captioning to follow an online video, movie, or television show. However, there are 3 different types of captioning including subtitles, open captions, and closed captions. The popularity of captioning is increasing and as a business, you might wonder how you can introduce these tools to expand your customer reach, increase sales and so much more. In this blog, we will examine the differences between open and closed captions while also explaining the benefits of each and the impact it could have on your company.  
Before we jump into the differences between open and closed captions, let's first define them…
Open Captions
Open captions are referred to as OC and are permanently visible to the viewer as they are 'burnt' onto the video file. An example of when these captions are used would be when one character is speaking to another in a different language. This type of captioning is controlled only by the editor and is mostly used for films and movies. Corporate organisations could also use this type of captioning service in workplace training videos to make the content more accessible for the deaf and hard of hearing community.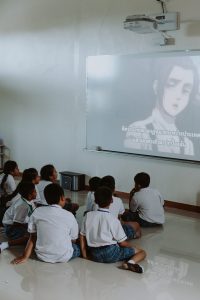 Closed Captions
Closed captions (also known as CC) can be controlled by the viewer as this form of captioning can be turned on and off. This type of captions is often used in multimedia content such as television shows, movies, or online videos (platforms like YouTube, Vimeo etc). There has been a rise in the popularity of closed captions being used, not only by the deaf and hard of hearing community but also by the general public. For example, people who may not be in the right environment to listen to the video out loud, or maybe using captions to follow along with what is being said. 
If your video content requires translation, then closed captions are definitely the right choice. Closed captions are always in view and can clearly distinguish who is speaking using different colours.  These captions would benefit your business's online presence by having how-to videos available in a range of languages, to improve inclusivity and customer reach.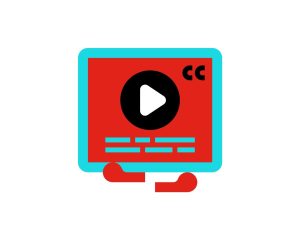 The difference between Open and Closed captions 
Open and closed captions aim to turn dialogue into readable text. However, there are many differences between the two including: 
The customisability of captions
Closed captions are fully customisable with the end-user having the ability to choose a range of languages (provided the translations have been considered), font sizes, background and text colour, and font style. For example, multimedia applications such as YouTube, use closed captions to make 100% sure all video content is customisable to improve the contents reach. This not only improves the user experience for the deaf and hard of the hearing community but also for people who suffer from partial visual impairments. The size of the text can be made bigger, and colours can be chosen to help with readability especially if the video has darker or brighter scenes. Combining these will absolutely improve your content's accessibility.
Whereas, open captions are not customisable by the end-user. The post-production editor is in control of all aspects of the captions. But there are certain rules and regulations that must be followed. 3 of which include:
Maximum of 47 characters per line

Maximum display time of 7 seconds 

Minimum display time of 2 seconds.
These captions are permanently kept on the video, therefore, can never be changed once added. This can affect the end-user experience as the font size may have readability issues for people who have partial visual impairments.
Having control over the captions 
For the end-user, having full control over the captions is important, especially in their own home. If this is the case, then closed captions are the better option as these can be turned on and off. However, due to open captions being permanently burnt onto the video file there is no option to turn them off and on. Evidently, this can get a bit confusing. Let's simplify it…
The benefits of closed captions include:
The ability to edit text size, font, and colour

Can be turned on and off 

Character names and text change colour depending on who is speaking
Can be translated into any desired language

Increase accessibility

Improve SEO and customer reach
| | | |
| --- | --- | --- |
|   | Open Captions  | Closed Captions  |
| Fully Customisable  | | |
| Can be turned on/off  | | |
| Are burnt onto the video file  | | |
The benefits of open captions include:
Ability to translate aspects of scripts

Movie players and apps will support the captions

No inconsistencies between different media outlets.
VoiceBox has been captioning blockbuster movies and viral social media content for years. We're multimedia specialists who know the ins and outs of what multilingual captions can do for your business and the content you make. So, speak to the experts at VoiceBox today, to find out more.
Information correct 23/06/2022
Useful links