Trust VoiceBox to

provide

high-quality, professional

SDH

s

ubtitl

ing

for your video content
Our talented team at Voicebox prides itself on its knowledge, customer care, and flexibility. Working with you, and over 2000 linguistics, to directly deliver outstanding and inclusive SDH subtitles in 220 plus languages. 
Subtitles for the Deaf and Hard of Hearing have been specifically designed for the deaf and hard of hearing community and their needs – from describing sound effects and audio to indicating who is speaking and in what tone. 
Essentially, in contrast to other types of captions, these subtitles do not assume the viewers can hear sounds and dialogue. 
Providing accessible subtitles for content is good practice and allows organisations to reach a wider audience. Also, in some cases, SDH subtitling enables brands to make reasonable adjustments to ensure people have equal access to materials and information, as set out in the UK's Equality Act 2021 – protecting people from discrimination and unfair treatment. 
Our services are tailored to fit the exact requirements of every client; from subtitle type and brand tone-of-voice to budget and turnaround. 
Want to know more about Subtitles for the Deaf and Hard of Hearing?
98% customer satisfaction rate
220+ languages
2000+ voice over artists
Quick and easy process
Rapid turnaround
Budget-friendly options
You're in safe hands with
VoiceBox
If you're looking for professional and comprehensible SDH subtitles, you're in safe hands with VoiceBox. We have over a decade of experience working with global clients to make their content more inclusive. Our knowledgeable team continues to stay abreast of the latest accessibility guidelines and development to guarantee our clients are receiving the best possible service.
What are
SDH Subtitles?
SDH subtitles are a type of subtitles specially designed for those who cannot – or have trouble with – hearing audio.
In contrast to other types of subtitles, SDH subtitles do not assume the viewer can hear the audio of a piece of video content. This means the subtitles will display not only the dialogue, usually indicating the different speakers' names, but also describe any other aural content, such as background noise, information about songs or off-screen sound effects.
These sounds often add crucial detail about the plot or content of what's being said. That's why it is so important to guarantee that they are described for those viewers who would not otherwise hear it. The text typically runs along the bottom of the video screen.
Why is SDH Subtitling
important?
Did you know that, worldwide, an estimated 466 million people – or 5% of the population – have disabling hearing loss? What's more, this figure is expected to surge to 900 million by 2050. Everyone has the right to be able to enjoy, be entertained by and consume video content, not least such a significant proportion of the population. Ensuring you include SDH subtitles in your content is a small investment to make such a huge difference to your audience. Here are three reasons why SDH subtitles are important:
Boosts accessibility

: For the estimated 5% of the world who are deaf or hard of hearing, subtitles ensure they are included in being able to understand and consume content. What's more, subtitling can also be hugely helpful to those who are neurodiverse and may find they process and digest information more easily if accompanied by subtitles. This a vast potential audience for your content.

Increases viewership in sound-sensitive environments

: Accessibility benefits everyone, not just those who are deaf or hard of hearing. For example, SDH subtitles can ensure that those watching from sound-sensitive environments, such as public transport, the library or offices, can also have a comprehensive viewer experience.

Breaks down language barriers

: SDH subtitles can easily be translated into multiple languages of your choice, enabling a global audience to understand your content.
Our process for
SDH subtitling
Our success in delivering SDH subtitles for our clients relies on our straightforward and transparent process. Here are our 5 steps to delivering high-quality subtitles for your project.
Firstly, you'll get in touch with us to discuss your requirements. You will tell us about your project type and any accessibility guidelines or requirements you must fulfil.
Next, you will send us your completed script, video or multimedia content.
Leave the rest to us – we will handpick an expert, professional SDH subtitler to create the captions, insert timecodes and sync the captions to the relevant audio. If you require captions in another language, we will bring in one of our network of native-speaking subtitlers to complete the translation.
Next is our rigorous quality assurance process. We check the captions for grammar, spelling, translation accuracy and synchronisation.
Then, the finished project will be sent to you for your approval. You're done!
Interested in a quote for SDH subtitles?
Which types of projects
do we cover?
Working in over 220 languages with 2000+ linguists, VoiceBox's talented network of SDH subtitlers have years of experience across a number of sectors and niches. This means we can always accommodate your project needs. We have provided SDH subtitling for:
Films, documentaries and TV shows
Content for streaming services
Social media content
eLearning and training courses
B2B and B2C marketing and advertising
A one-stop shop for your
multimedia needs
Did you know that, as an award-winning multimedia agency, VoiceBox also offers a range of other services aside from subtitles for the deaf and hard of hearing, such as voice over, multimedia translation, transcription and more?
When you work with us, you can rest assured that one of our talented team members will oversee every aspect of your project from beginning to end, leaving you to deal with the more business-critical tasks. You'll have one point of contact for your multimedia project, and you can trust that we will liaise with subtitlers, voice over artists and transcribers on your behalf.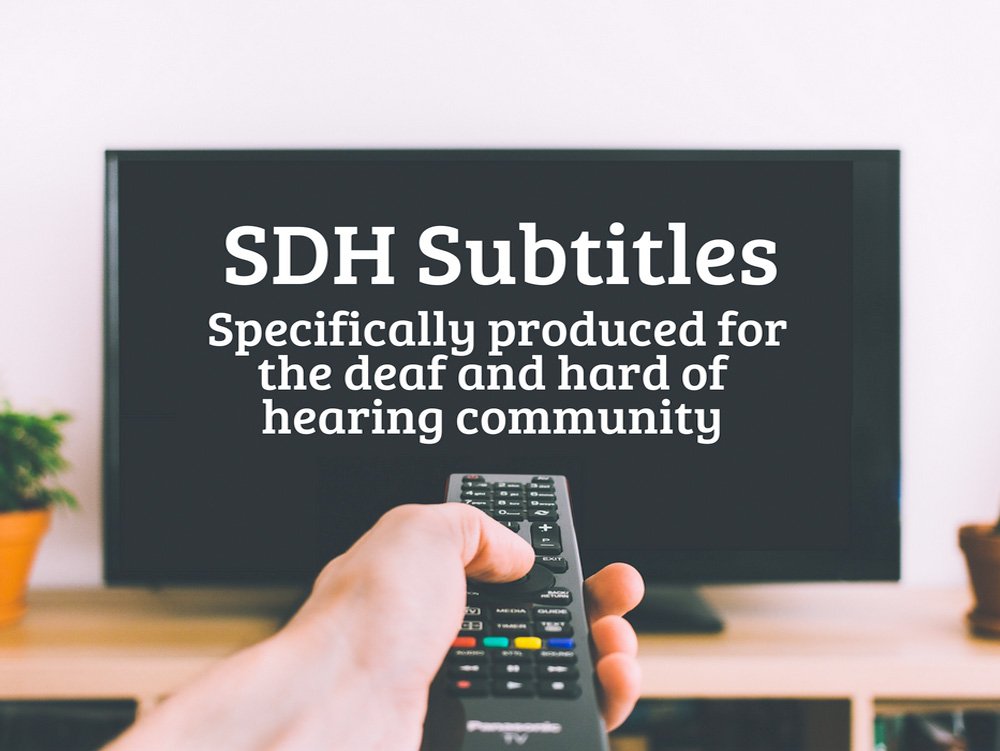 Why choose VoiceBox for your
SDH subtitling service?
At VoiceBox, we want to work with you at every step of the way to provide you with the perfect captions for your global content. Here are the three reasons why our services stand out:
Versatile

: Due to our expert team and extensive network of subtitlers, we can deliver inclusive, high-quality subtitles that match the needs of your project.

Collaborative

: We work side-by-side with our clients to ensure customer satisfaction, every time.

Flexible

: Whether there is a change in brief, budget or timescale, we pride ourselves on our flexibility as an organisation to ensure that your subtitles for the deaf and hard of hearing is completed to a high standard.